When you step inside Rib Lake Health Services, you immediately are greeted by a warm, home-like atmosphere. Our team of caregivers and support staff are here to greet you, make you feel comfortable, and welcome you into the family.
Rib Lake Health Services have been serving Taylor County since 1969. We are proud to be in a community that takes an active interest in our residents, making Rib Lake Health Services part of a larger network of people, committed to our success.
We are also proud to serve those who have served others throughout their lives. We have had the privilege of having many veterans, farmers, and loggers as residents in our center.
Experience why Rib Lake Health Services is The Right Choice for you.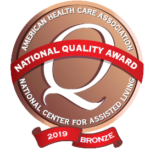 Overall Quality of Services Score
In house 

L

ab

 testing capabilities

 

In house X-rays

 

In house 

EKG

 

Bladder Ultrasound

 

Venous Doppler

 

Swallow Studies

 

Psychiatr

ic in house consultations

*

 

Cardiology

 in house consultations

*

 

Pulmonary

 in house consultations

*

 

Podiatry

 

Dental

 

Occupation

al Therapy

 

Physical

 Therapy

 

Respiratory

 Therapy

 

Speech

 Therapy

 

Daily Weights

**

 

Glucose monitoring

**

 

Nebulizer Treatments

**

 

Incentive

 spirometry

**

 

Wound Care

 

IV Fluids (initiation and maintenance)

 

IV Antibiotics

 

IV Meds

 

PICC Management

 

Total Parenteral Nutrition (TPN)

 

Isolation 

for infection control

 

Tracheostomy Management

 

Dialysis

/Transportation

 

Automatic Defibrillator

 

Full Pharmacy Services

 

Emergency Kit

 

Comprehensive Dining

 

Activity Services

 

Discharge Planning
Start Making a Difference Today
Trust, engagement, competence, respect, and passion – these are the values under which we operate every day. Our dedicated team of professionals strives to deliver quality care to our residents and their families and we are seeking exceptional individuals to join our team. If you value being a leader, working in a progressive environment, and having opportunities to grow in your career, our center is The Right Choice for you. We offer a benefits package designed to meet the diverse needs of our employees. We know that different benefits will be important at different times in your life. Our goal is to provide employee benefits that support your good health, protect you when you're sick or injured, help you save now and for the future, and promote work/life balance. Click on any job opening for more details on these and other benefits North Shore offers.