Randolph Health Services has been serving the Beaver Dam, Cambria, Markesan, Waupun, Pardeeville, Rio, Fall River, and Columbus area since 1972. We are located in the heart of Randolph, a rural community that is very supportive of us as a provider. Randolph Health Services & Assisted Living is very active in the community, sponsoring many events and benefits.
This facility has had a long-standing 5-star CMS rating. Recently Randolph received three state Annual Surveys that were deficiency-free. These results are a true indicator of the dedication and passion the employees have for their residents.
We recently were awarded a 2019 Bronze – Commitment to Quality Award by the American Health Care Association and National Center for Assisted Living (AHCA/NCAL).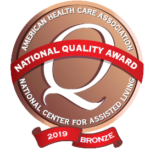 Overall Quality of Services Score
Start Making a Difference Today
Trust, engagement, competence, respect, and passion – these are the values under which we operate every day. Our dedicated team of professionals strives to deliver quality care to our residents and their families and we are seeking exceptional individuals to join our team. If you value being a leader, working in a progressive environment, and having opportunities to grow in your career, our center is The Right Choice for you. We offer a benefits package designed to meet the diverse needs of our employees. We know that different benefits will be important at different times in your life. Our goal is to provide employee benefits that support your good health, protect you when you're sick or injured, help you save now and for the future, and promote work/life balance. Click on any job opening for more details on these and other benefits North Shore offers.