Court Manor Health Services
Compassionate care and dedication to meeting you or your loved one's healthcare needs are what make Court Manor a cornerstone of health in our community. We have been serving Ashland and surrounding communities since 1972. Our center is in the heart of Chequamegon Bay in Ashland, Wisconsin with views of Lake Superior and within walking distance to many wonderful restaurants and the historic main street district. We are conveniently located near the hospital and clinics.
In 2019 we were awarded a 2019 Bronze – Commitment to Quality Award by the American Health Care Association and National Center for Assisted Living (AHCA/NCAL). This award recognizes our commitment to the pursuit of quality and our focus on developing systems and protocols that meet our residents' needs and provide consistent quality care.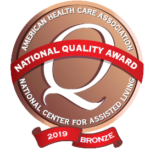 Resident Survey - Overall Quality of Services
At least one Physician, Nurse Practitioner, or Physician Assistant in the facility 3 or more days/week
In house Lab testing capabilities
In house X-rays
Bladder Ultrasound
Swallow Studies
Psychiatric in house consultations*
Cardiology in house consultations*
Pulmonary in house consultations*
Occupational Therapy
Physical Therapy
Respiratory Therapy
Speech Therapy
Daily Weights**
Glucose monitoring**
Nebulizer Treatments**
Incentive spirometry**
Wound Care
Wound Certified Nurse
IV Fluids (initiation and maintenance)
IV Antibiotics
IV Meds
PICC Management
Isolation for infection control
Tracheostomy Management
Dialysis/Transportation
Automatic Defibrillator
Secured Memory Care Unit
Outpatient Therapy
Full Pharmacy Services
Emergency Kit
Comprehensive Dining
Activity Services
Discharge Planning
*some in house services may be telehealth services
**services must be supported by physician orders 
Start Making a Difference Today
Trust, engagement, competence, respect, and passion – these are the values under which we operate every day. Our dedicated team of professionals strives to deliver quality care to our residents and their families and we are seeking exceptional individuals to join our team. If you value being a leader, working in a progressive environment, and having opportunities to grow in your career, our center is The Right Choice for you. We offer a benefits package designed to meet the diverse needs of our employees. Click Find Your Career to view our job openings at this center or others in the North Shore Healthcare family.
We are committed to keeping our residents connected with their loved ones. Whether it's through a virtual visit, window visit, or outdoor visit where permitted, we are here for you. Call our center for more details on how to connect.
Send a greeting to a loved one in our center!